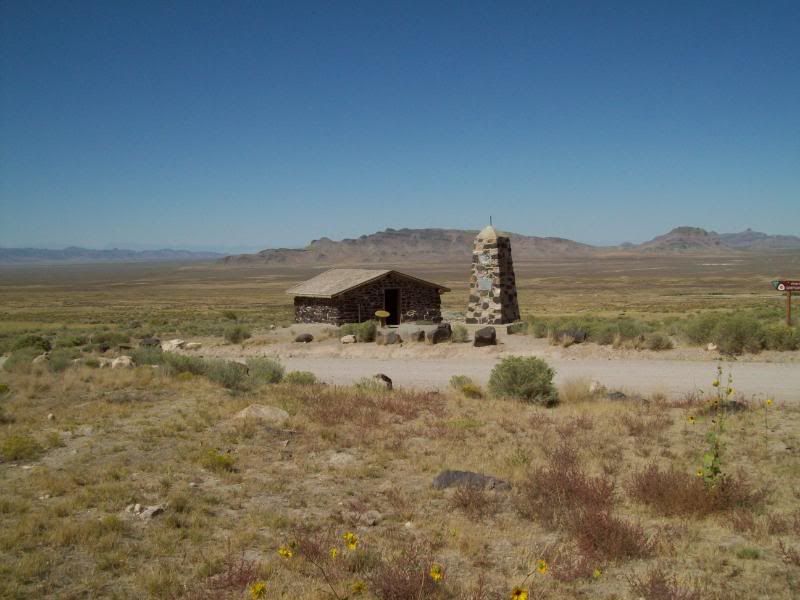 I found this video (see below) on YouTube and since it snowed 6 inches this a.m. and is now giving us another 8-10 inches, I thought I would get look around. This is a motorcyclist's trip on the Old Pony Express Trail. Most of my West Desert (most, but not all) are located off of here. I've posted pictures from Pit n Pole, but if you go to about 1:55 to 2:12 you'll see what my view is like from another elevated observing area that I go to (a little more Cedar Trees behind me my spot). During the week these are tremendous areas to go to, but weekends can be another issue with all the ATV and motorcyclists out there who RV it. Just have to know the spots to go.
Simpson Springs is another area that is good to go to for a couple of days. It is found at 3:48 to 4:31 shows this area. There is a campground and as mentioned, don't drink the water. I take my water so I am good. There are plenty of areas to put a scope that are away from the campground and you can set up your tent there if you want to stay night there. If your tenting it and sleep outside of a campground you do need a Special Recreation Permit from the BLM. It does cost $5.00 a night to camp. I like a tent with an air mattress if I am spending a couple of days at this or a site up in the mountains. Valut toilets are available which is nice, though smelly. Hopefully you get a sense of the vastness and how dark the skies are out here in this video on YouTube. It ties in a piece of U.S. History as well, the Pony Express.
Details can be found at the BLM site on
Simpson Springs
.
Here is a map showing the route of the Pony Express Route in Utah:
Finally, I found this wonderful
post
of the journey someone made of the entire Pony Express Route in Utah, and am going to post it here as there are some promising sites that I want to visit next summer and explore as observing sites (at least test them out). I think as amateurs looks for new observing sites, we should tie in with SUV people who do ventures like this. At the bottom is an overview map but the poster put on there his GPS makers at crossroads and interesting areas he photographed. These maps are really helpful. If your local and one to try a site out let me know come next spring or summer (I'm sticking to my winter sites this year). Enjoy, I did!