Well, I have a friend and observing companion who recently ordered an Orion XX14i from Orion with the notion of updating the mirror from Carl Zambuto. To make a long story short, Orion has taken the convex mirror and updated mirror cell from the XX14g model and put that into the XX14i model. It should save weight and make cooling time quicker, allows for up to 3 fans to be installed to cool the mirror and thus is a good thing unless you want to upgrade the mirror. That becomes more difficult than if you have an older Orion XX14i with the regular mirror and 18 point mirror cell as seen in this
article
by scrolling down or see the image below.
Here is what Orion has on their site about the XX14g and their mirror. I would assume they would be updating their website on the XX14i to include a similar statement:
"The XX14g features an innovative convex-back 356mm diameter primary mirror and a newly engineered mirror cell, which weighs 10 lbs. less than standard 14" mirror and cell combinations, yielding faster ambient temperature equilibration times so you get optimal visual results more quickly. The mirror cell accepts six specially designed threaded counterweights (included) to optimize balance."
Here is an image of what the old mirror cell looked like on the XX14i from the article by David Knisely I linked above. This cell accepts the standard 2 inch (almost 2 inches) mirror that came with the first shipments and is open in the back (this looks to have a lid or to be sitting on a table). In this view you are looking down on the cell where the mirror would lay.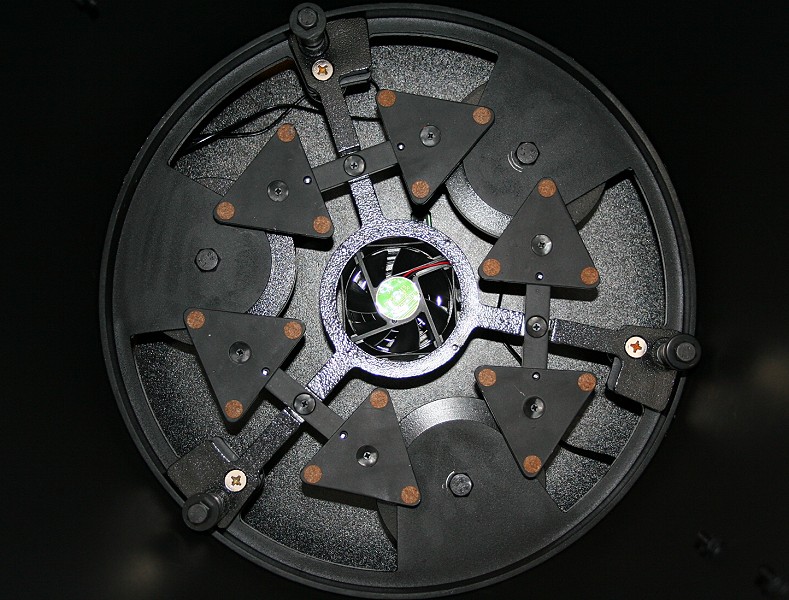 Here you can see a close up of the new mirror cell from behind and you can see the convex mirror sitting in the new cell. Click to enlarge or go to the Orion Telescope site to view it yourself
here
.
Here is an image of the bottom tube from the XX14g which seems to be the same now for the XX14i.
So be aware if your ordering an Orion XX14i or XX14g that you will be receiving a convex mirror with a different mirror cell. Glad I got one when they first came out as I am sold on what a Zambuto mirror can do in a scope. It might be a pain for Orion but I would love to see on the XX14i the option of mirror and cell you get but that won't happen since they are into mass produced scopes. I don't like the fact that Orion in some ways in doing this have limited options for those who purchase the scope in case they want to upgrade the mirror. It is never good for a product when choices are removed from the consumer. In my experience it usually means a short lifespan for the product but we'll see.