This is for the local people who watch my blog. I just wanted to share with you a rather fun and enjoyable thing to do that involves visual observing of the moon using the naked eye, AND can allow you to go on a date, or take the significant other/spouse or just you and some friends. I know that
Sundance Ski Resort has Full Moon Lift rides
available for $10.00 per adult (younger and older are cheaper, see the link), or two rides for $15.00. The lift ride up and back takes about 40 minutes so if your ambitious you should be able to get two rides in IF the person(s) your with wants to spend that much time for you. Enjoy the full moon as you head up and down the lift, and the wonderful lit up sites in the valley around you. I love seeing some of the falls in the distance in the moonlight. I don't get anything for sharing this, it is something I do once during the summer and then in September I always hit one since fall is my favorite season. Bring a thermos of hot chocolate or whatever warm drink appeals to you and enjoy the evening observing, watching and relaxing. Clear skies (not lately, thunderstorms from the summer monsoon are here).
Image of the lift during the daytime: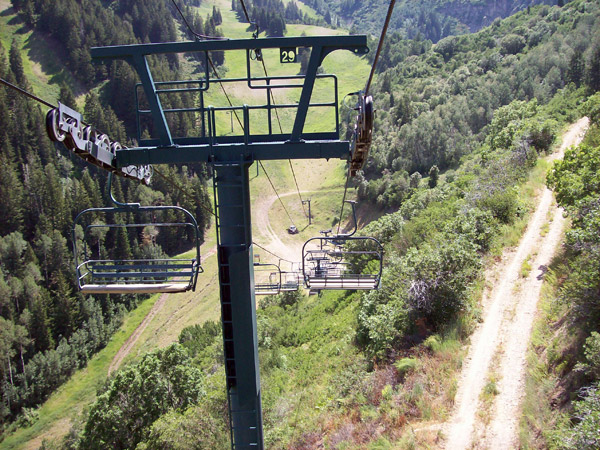 Some of the other ski resorts use to offer this but I cannot find it on their sites. Several do have great day time activities like the Alpine Coaster, the Alpine Slide, Zip Riders, a game like magnetic frizbee golf (much more enjoyable for everyone), orienteering (designed so kids beat the adults) and other activities so check them out for a way to get out of the heat! Oh, again, I am just posting up some things that can be done since we have the full moon right now.
I'll be posting up more sketches today also for the original vs digital comparison.