Sorry I don't have much of late. Funeral arrangements have tied me up and I've been working up until today. The funeral is Saturday so after that I am hoping to get back observing, sketching and reporting on my activities.
The Perseid Meteor shower is this Friday night and Saturday and this image shows the general direction they will come from though the moon will be interfering except for the brightest of the streaks.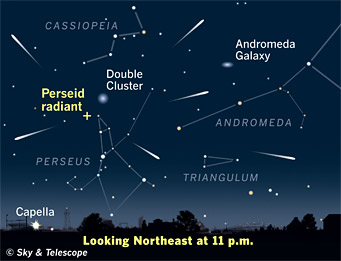 I noticed and wanted to share that over at NASA at this
link
. Some of the highlights from this article are the following:
"Chat with NASA astronomer Bill Cooke and his team from NASA's Marshall Space Flight Center as they answer your questions about the Perseids via live Web chat. Join them on Friday, Aug. 12 at 11 p.m. EDT -- 03:00 UTC GMT -- then make plans to stay "up all night" until 5:00 a.m. EDT on Saturday, Aug. 13
Joining the chat is easy. Simply return to
this chat page
a few minutes before 11 p.m. EDT on Friday, Aug. 12. The chat module will appear at the bottom of this page. Simply type your name to join the chat, then we'll start taking your questions at 11 p.m. EDT."
Need to watch them because your skies are cloudy? Then join NASA and watch the Perseids via "A live video/audio feed of the Perseid shower will be embedded below on the night of the chat. The camera is mounted at NASA's Marshall Space Flight Center in Huntsville, Ala." Go to the site and check out all the information on how NASA has a rather cool experience planned for this event. Perhaps even better is to link up with some friends or family and head out to a nice dark site, perhaps on a hill and lay down and look up. The moon will be an issue but it is the experience of getting out and enjoying each other and the time together after all. Beats watching TV in my opinion.