These several paragraphs will replace the review at the bottom, and you can read this and get my impressions. Others LOVE these eyepiece and herald them as the equals or superiors of the Pentax XW's orr TeleVue Delos lines. I am not ready to make that proclamation. I will say that they are a very good to excellent eyepiece with a coma corrector in a fast newt. The other two, especially the Delos I feel is the top of the line.
Second Review of Baader Morpheus 14mm
This is a long, LONG post and records my observations using a 14mm Baader Morpheus eyepiece. These are my observations and as stated, I am not an expert eye review. I openly note my findings disagree with others with this eyepiece, including William "Bill" Paolina, one of, and by many considered a key reviewer of eyepieces. His review is at CloudyNights at this LINK. I stand by my findings here from my observations that without using my TeleVue Paracorr Type II, this eyepiece shows field curvature that impacted my view in the outer 20% from the edge of the FOV. The center was sharp and clean unless I attempted to focus on the unfocused outer edge, then when that focused in, the center became unfocused. It is not as bad as the 14mm Pentax XW without a Paracorr, but it was there nonetheless.
Some of claimed it is the telescope and to that I have say if it is the Telescope, then why did the 14mm TeleVue Delos and 14mm Explore Scientific 100 degrees not show any field curvature? Certainly the mirror in the 17.5" dob I used has some curvature, that is natural for a dobsonian mirror. But it doesn't show in any other eyepieces in this test, or in the eyepieces I have and use on a regular basis.
One possibility I may suggest is that because of the f ratio of the telescope f/4.4, it is fast enough that without a Paracorr in the focuser, it MAY be really bad coma, worse than the other eyepieces I used on the scope that night without a Paracorr. To me in this article LINK, coma and field curvature are nicely demonstrated (scan to each and view the article's examples). I still feel that there is field curvature present, perhaps not as bad as I first thought. Why? I believe when the field curvature is combined with the coma, the two combined, made this observer's experience worse. Also, when I put the Morpheus 14mm in the Paracorr, it cleaned up wonderfully, perhaps excelling the Pentax XW on some objects like M51, where when compared to the Delos 14mm and the Pentax XW 14mm it showed fainter stars with direct vision that the other two required averted vision to see. Then again, on M22 and M13, without and with the Paracorr I much preferred the view of the Delos 14mm and Pentax XW 14mm over the Morpheus 14mm. The Morpheus seemed to mush the core and not popping the stars out in and around the core. The Pentax XW 14mm and Delos 14mm brought out these stars with a much richer contrast for me.
Lastly my comments on blackouts with the Morpheus. This occurred because I had a hard time finding where I was comfortable with glasses viewing in this eyepiece. I seems to have to pull back and push forward and that caused the blackouts, as I approached and came to close to the eyepiece itself. For me, finding the comfort spot to observe is more work than the Pentax XW 14mm or the TeleVue Delos 14mm. Bottom line I had a hard time finding where to put my eye. It improved slightly as the evening wore on, but I didn't like that part of the experience.
Initially I rated these eyepieces (end of article) as follows:
In a moment I will revise that, perhaps. I have to say also that the Pentax XW 14mm and the TeleVue Delos 14mm are built with much higher standards than the Baader Morpheus 14mm, which to me is more plastic and not apparently as strongly built as the other two. The Morpheus eye cups are made of poor material and poorly designed I feel. Overall, the build quality of the TeleVue Delos 14mm and the Pentax XW 14mm easy out do the build of the Baader Morpheus 14mm.
So I want to rate these eyepieces with and without the Paracorr:
2. Split on Pentax XW and Baader Morpheus 14mm
Bottom line if the TeleVue Delos 14mm is on sale or you can find a good used one at a decent price, I would go with that IF you observe without a Paracorr.
I would place the Baader Morpheus 14mm over the Pentax XW 14mm IF your looking for faint stars with direct objects in DSO's; IE you want to get out as much detail as possible.
IF you want a better contrast than to me, the Pentax XW shows a better contrast with the Paracorr II over the Baader Morpheus. I was able to see many more stars in the globulars of M22 and M13 with the Pentax XW over the Baader Morpheus. Galaxies I give the faint H2 knobs and field and embedded stars to the Baader Morpheus. Nebula, I gave to the Pentax XW which in M8, the Lagoon Nebula, showed an increase of brightness in the hour glass by the bright double star 9 Sagittarii. the Pentax XW 14mm showed more brightness in the nebula from 9 Sagittarii than with the Baader Morpheus 14mm. That was evident on M17 the Swan Nebula and M16 The Eagle Nebula as well. That is why for me, I am keeping the Pentax XW 14mm and selling the Baader Morpheus 14mm.
Someone on CloudyNights, were I posted my first initial reaction said that these were basically improved Baader Hyperions. I don't think that is fair, as I think someone looking for an improved eyepiece but can't or won't pay for a Pentax XW 14mm (and a Paracorr to use that eyepiece) or full price for a TeleVue Delos 14mm, then the Morpheus 14mm is a good choice. It will need a coma corrector if your under f/4.6 (I used it on my 14" dob which is f/4.6 with similar results).
So the Baader Morpheus 14mm is a solid, no, very good eyepiece. I got some curvature in it, not a ton, but when combined with the coma IF you observe in a fast newt without a paracorr at a dark site, your going to have the view observed. Or I should say I did. If your using it with a Paracorr or coma corrector, this is a very good to excellent eyepiece with a few other issues with it as I note below. Here are some links to what others have to say about it on the Internet:
William Paolini Review of Morpheus Line on CloudyNights: LINK
CloudyNights Thread: TeleVue Delos vs Baader Morpheus 14mm: LINK
StarGazer Lounge Thread: REVIEW OF THE BAADER MORPHEUS 12.5MM 76° EYEPIECE:
LINK
StarGazer's Lounge: First Impressions of the Baader Morpheus 14mm:
LINK
StarGazer's Lounge: Comparison of distortion between Morpheus, Nagler, Delos, XW, and LVW:
LINK
I believe from reading the links, that there are some minor issues with the Morpheus line, but all in all, it is a very good to excellent line. As stated, the Morpheus line is not coming into my collection and I'll stick with the Pentax XW and the TeleVue Delos. Your mileage as always, may vary and differ!
Begin of Data Collection and the Review 1 of Baader Morpheus 14mm vs 14mm Pentax XW and 14mm TeleVue Delos.
The TeleVue Paracorr Type II does clean up the coma on the edge and the field curvature I saw on the Baader Morpheus. For me in a Paracorr Type II I like the presentation of the 14mm Pentax XW over the Baader Morpheus 14mm, but that is a combination of bias as I have used the Pentax XW line for a long time now, and I openly admit that. My winner was the TeleVue Delos 14mm
On the night of Thursday, July 28th, 2016, I had the opportunity to have a shootout with the follow eyepieces: The new Baader Morpheus 14mm known the Morpheus in the review; the Pentax XW 14mm known in this review as the XW; the 14mm TeleVue Delos, known as the Delos in this review; the Explore Scientific 14mm 100 degree, known as the ES in this review.
The site I observed from is on the Wasatch/Cache National Forest land south of Vernon, Utah, about 15 miles as the crow flies to the southeast. That is about a 15-20 miles drive. Vernon, Utah is the only source of about very light light pollution in the area, and that is really, really sparse. It is made up of 243 residents spread out over a broad area, the small city is listed as being spread out on 7.5 square miles, all land. Grass or Turf farming is one major occupation of the area as is ranching.
I want to say upfront that all of what I write and post are my opinions, based on my observations and I will try to quantify them the best I can. There are others far more qualified than me and I invite them to review and evaluate the observations and findings I make. Please remember that these are my experiences, based on one evening of observing and though my opinion is strong, it is exactly that, my opinion. I am 51 years old, been observing for 15 years, 11 what I consider serious. SQM-L settings over the year at this observing site average 21.82. This night I had 3 readings of 21.79, 21.8 and 21.8 throughout the night. I have been using this observing site, basically year round for over 5 years, and I like it quite a bit.
EOFB= Edge of Field Brightening LINK
EOFA=Edge of Field Astigmatism
If your unfamiliar with some of these terrms used in the tables, here are some links that may help you.
Edge of Field Brightening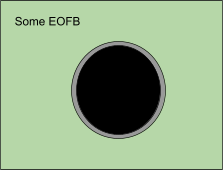 One of the best sites with visual examples I have found that come close to the view in the eyepiece is an article called Got Aberrations by Doug Scobel that was printed in the Reflections Magazine for the Astronomical League in May, 2007. Here is that
LINK
.
So here we go! The data is the tables is raw data. I did not use my TeleVue Paracorr Type II on these observations. Later I did add the TeleVue Paracorr Type II in and I can safely say that those issues I found in the Morheus 14mm were cleared up in the Paracorr Type II as were the issues I found in the Pentax XW 14mm.
All observations are recorded in MDT or Mountain Daylight Time and I am not adjusting for GMT.
Observational Data
Saturn

Observed 10:45pm MDT

Explore Scientific 14mm 100 degrees

Coma seen outer 10-15% but same area since FOV is larger

EOF angular mag. distortion

Yes . . ? I am unsure of this and I did not test it during the day to confirm but I believe there is some slight distortion with the eyepiece

Yes, plainly evident as the central image stayed in focus on the outer edge say 20% was blurred and elongated.

Yes, plainly evident as the central image stayed in focus on the outer edge say 20% was blurred and elongated.

None, clean crisp image, outer edge nice and sharp.

Contrast is good, but nothing compared to the XW or the Delos which were much darker

Nice dark background leading to crisp, clear and excellent contrast.

Best of the bunch again, dark background giving excellent contrast.

Very good contrast with dark background.

Color was very good, gave a nice sense of the hues of Saturn, bands were evident with this EP.

Color was very good and gave a nice contrast of the bands that were evident.

Terrific color, most detail of the 4 seen here with distinct colors viewed.

Very good color providing detail of the bands but not as much as the other 3.

This was the most surprising to me as I don't believe this matches the listed eye relief. Using my glasses I had a hard time finding my placement on the EP. I had to put glass on glass (like I did on the ES 100 degrees and I didn't like that. Removing my glasses (I can observe without them, I am just lazy) reveals a better eye positioning. This improved as I found my placement with my glasses, but I was never comfortable with it.

No problems at all with this XW. Eye Relief is wonderful and what is expected.

No problems with the Delos as Eye Relief is what is to be expected.

I have a hard time with the Explore Scientific 100 degree eyepieces and using them with eye glasses. Just never comfortable with them so know that in my following statement. For non-eye glass wearers, wonderful eye relief. For eye glass wearers, look two the XW or Delos.

Because of the eye relief very common for me to black out on this eyepiece which is annoying. It improved as I observed and got use to it, but I don't like blackouts

No problem, eye relief ensures no blackouts

Glasses on, yes, blackouts would occur. Take off the eye-glasses and nope, blackouts were minimal.

Yes, but only on the very edge of the eyepiece

Picked up faint moons on Saturn, 5 or 6 observed using direct and observed. Equal to the XW.

Picked up faint moons on Saturn, 2 underneath and 4 next to the planet. Very close to Delos.

Picked up faint moons on Saturn, observed 6 moons around Saturn.

Picked up faint moons with direct and averted, 5 of 6 moons evident.

EOFB is present but not bad, coma from the mirror and clears with the Paracorr II. Field Curvature is evident to me, close to the XW but the XW slightly worse. Contrast is not equal to the XW or Delos. Hard time finding eye placement causing blackouts. Presentation and color are very good, equal overall to Delos and XW. Cassini was easy to see, this eyepiece does well on details. Paracorr cleans up this eyepiece very nicely, just a notch behind the Delos and an equal to the XW.

Field Curvature is very evident to me. Contrast is wonderful and eye placement is terrific. No blackouts for me on this. EOFB not a major issue and both FC and EOFB are cleared up when using the Paracorr Type II. Color is terrific also and equal to the Delos. Cassini was easy to see. XW is a clear 2nd, almost tied with the Delos 14mm with a Paracorr. Without the Paracorr, it is a toss up to whether you go with the Morpheus or XW. I would opt for the XW as I like them overall.

This is the best of the best to me at the 14mm for Saturn. Clean crisp flat field across the fov. No curvature is evident and contrast is by far the best of the best. On Saturn the Delos won this shootout hands down for me. Cassini was extremely easy to see with the Delos, easier than any of the other 3.

EOFB is present with coma and no field curvature here. Eye placement to me is a hard thing, I had to let my eyeglasses hand down by my neck for me to use the 14mm. My eye had to really get down into the glass on the 14mm ES and I don't like that (why I sold the ES 9mm and 20mm). Bias done. Field is crisp and clean, I would say at the Delos and Paracorred XW level. Faint objects are easy to see with direct vision, averted is a little harder because my eye wants to wander taking in the FOV. Better than the Morpheus.
| | | | | |
| --- | --- | --- | --- | --- |
| | | | | Explore Scientific 14mm 100 degrees |
| | Present again and clears up with coma corrector | Present and clears up with Paracorr. | | |
| | | | | |
| EOF angular mag. distortion | Yes, as Alberio exited to the W or entered from the E to the FOV, the pair were elongated and then came to sharp points after coming out of the outer 10-20% of the FOV. | | | |
| | Yes clearly evident as Alberio was centered and focus, outer edge was not in focus. Focus outer edge and Alberio was defocused. Paracorr cleared it up. | Very, Very evident and same factors that happen with Morpheus happen here. | None, Albertio was sharp at the center and stars on edge sharp and crisp. | |
| | Very good, dark background, stars showed out nicely in FOV. | Very good, nice background and stars popped. | Best of the four, with great darkness and presentation. XW and Delos just come down to preference. Morpheus is a close, VERY close 2nd. | Very good contrast, darkness is good and stars pop. Not quite as bright as Delos or XW and I think the Morpheus is better. |
| | Colors of Alberio are clear, blue/yellow, sharp and contrasting. Equal in color presentation to XW or Delos. | Colors of Alberio are clear, blue/yellow, sharp and provide a very good contrast. | Excellent color presentation, but I personally like the XW best here. Really a choice between Delos, XW, Morpheus. | Wonderful color contrast, equals the other 3. |
| | That eye placement to me is still causing blackouts and hard to just get right. Still struggling to get it right. Better with no glasses worn. | No problem, with plenty of eye relief with glasses. | No problem, plenty of eye relief to use with glasses. | Same old for me. Glasses off, put eye down into the eyepiece to take in the field. So if your not an eyeglass wearer, your great here. |
| | | | | Yep for me with eye glasses. |
| | | | | |
| | | | | |
| | It was here I saw the field curvature the best as Alberio moved off the FOV. Made me try it with Vega with the same affect. Parcorr cleans it up nicely. Color was great and I enjoyed the view of Alberio in this eyepiece. Ony thing between Morpheus and say the other 3, I saw faint stars with the XW and Delos that took averted with the Morpheus in this FOV. | Like the Morpheus, FC is amply evident until a Paracorr is put in. Contrast and darkness were good, faint stars evident direct vision, averted popped even more faint stars. I really like the presentation of Alberio at the center here. | Sharp and crisp through the FOV. Bright yellow and blue. Perhaps a tiny amount of coma with no Paracorr. Great darkness and contrast is nice. Faint stars are direct in this EP, a few that took averted with the XW even. Best of the best perhaps but only slightly if Paracorr is given to Morpheus and Pentax XW. If Paracorr is in there I rate these 3 equal. | Not talking about eye placement. Crisp image, nicely blue and orange/yellow star with a good background and contrast. No major issues really with this eyepiece. Most will be very happy with this presentation in this eyepiece with the drift. |
| | | | | |
| --- | --- | --- | --- | --- |
| | | | | Explore Scientific 14mm 100 degrees |
| | A little bit of coma evident, same as XW | A little bit of coma evident like the Mopheus. I have decided that the Morpheus and XW are the same here. | | A little bit but not much. |
| | | | | |
| EOF angular mag. distortion | Not really evident as no bright star exits here. | | | |
| | Yes, confirmed here again. PC cleans it up. | Yep, as always with no PC. PC cleans up field | | |
| | Really shown here, great contrast, wonderful darkness | | | Very good, I rate the darkness as fourth behind the other 3 but not by much. |
| | | | | |
| | Getting better, believe I have it down but still awkward with glasses. | | | Excellent with no glasses, challenging with glasses. |
| | Improving but still present as i adjust to my placement. Not improving with glasses, more blackouts with my glasses on. | | | With glasses, yes. Without no. |
| | Not evident in this observation | | | |
| | Pulls in faint stars the best of the 3 70 degree EP's on M51. Core evident in M51 and companion, faint star to the right in FOV from core, one above the core, one to the right of the core. All with direct vision. Best here. Two arms, wonderful view of both arms. | Pulls in faint stars, one above the core, one to the right of the core but the one to the left took averted vision to get it. Spiral arms, 2 easily seen with hints of structure to them. | Pulls in faint stars, one above the core, one to the right but needs averted vision to pull in the one to the left of the core. Bright cores seen in both galaxies and 2 arms easily observed with hints of structure to them. | Pulls in faint stars, one above the core, one to the right, harder to get the one to the left in, even with averted but can be done. Cores are bright, great presentation of the arms but I prefer the other 3 here. |
| | One thing to mention. I did a lot of drift with M51 and the 76 vs 72 vs 70 is this. I could see a slight differene between the 76 degree Morpheus and the 70 degree XW. The 72 Delos and the 76 Morpheus is not enough to matter. On M51 I really liked the Morpheus and would state here I think it equaled the XW and Delos IN a Paracorr. With no Paracorr, Delos is clear winner. | Love the presnetation in the XW. Structure in the arms, contrast I enjoy, nice stars (with paracorr) but central image of M51 was terrific. Like the Morpheus without a Paracorr, you will be moving the object back to center more often if you don't like FC. XW and Morpheus equal here with and without the Paracorr. | This object made me decide to order the Delos 14mm. The sharp, crisp FOV and stars are great and M51 and the companion are terrific. I think the best contrast and view is in the Delos 14mm so far. Faint stars with direct and indirect pop. Just overall, when you add it all up, this EP is the best. | Wonderful view (with no eye glasses) Faint stars evident, though with work for the faintest. Crisp image and good contrast. M51 and companion clear, detail evident and great presentation. No losers on this object among all 4 eyepieces. |
| | | | | |
| --- | --- | --- | --- | --- |
| | | | | Explore Scientific 14mm 100 degrees |
| | Some brightening, originate from coma as disappears with Paracorr II | Some minor brightening/coma and it also disappears with Paracorr II | | |
| | | | | |
| EOF angular mag. distortion | | | | |
| | Yes, very evident with pinpoint at center, distortion at outer edges, focus outer edges, center distorts. | Yes, very evident with pinpoint at center, distortion at outer edges, focus outer edges, center distorts. | | |
| | Contrast darkness here is good to very good, dark background | Contrast is very good to excellent, strong black background | Excellent, very good allowing stars to pop out. | Excellent, star pop out with strong background |
| | Various colors and brightness easily observed. | Various colors easily distinct and observed | Various stars of varying brightness and color seen. | Various stars of varying colors and brightness seen. |
| | Improving but still much better and easier without glasses. I question the eye relief and for me, I cannot enjoy the view with glasses on. | No problem with eye relief. | No problem with eye relief. | No problem without glasses and pushing my eye to the glass. I had to do a field cleaning after my eye lashes which are long brush the glass. My friend Elliot (not real name) with me has no problem with the ES as he doesn't wear glasses. |
| | Yes, wearing glasses I get a lot of blackouts. WIthout them I get just a couple before gaining the correct eye placement. | | | A few as I adjust the eye to the eyepiece for positon. |
| | On the far outer edge still with bright stars. | | | |
| | Faint stars seen direct and averted | Faint stars seen direct and more with averted. | Faint stars seen direct and averted. | Faint stars seen direct, more with averted |
| | On M22 the globular was not as well refined in the core region and I saw more haze than direct and faint stars there. The view of M22 wasn't bad, it was good, but the other 3 out did the Morpheus on M22. Paracorr II did not improve the image at the core. | Central core is clearly evident and easy to see stars at the core with direct and averted. More stars seen in XW than in the Morpheus. Overall this view and presentation is superior over the Morpheus. | The Pentax XW and Delos held the same view with the edge to the Delos because of lack of curvature without the Paracorr. | Explore 14 held its own on this object. Presented M22 well with the core showing stars in direct and averted vision of varying brightness. I would place this 3rd on this object behind the Delos and then the PentaxXW. |
| | | | | |
| --- | --- | --- | --- | --- |
| | | | | Explore Scientific 14mm 100 degrees |
| | Kicking a dead horse on this. Some EOFB due to coma. Paracorr II stopped it. | Some EOFB and coma, Paracorr clears it up. | | A tad I feel, not as much as the Morpheus and XW but just a hint. |
| | | | | |
| | Yes, still plainly evident | Yes, plainly evident as we all know. | | |
| | Very good on M8. Nebula stuck out nicely with no filter. A little brighter than the Pentax or Delos. Bright star on left side of nebula and brightness of nebula is muted here, not as bright as the other 3. Dark lane looks brighter also, but still clearly visible. | Excellent contrast that allows the nebula to pop into view, dark lane easily seen and distinct. Nebula by bright star is bright and a varying cues in the XW. | Wonderful! Like the Pentax XW with good background giving excellent contrast. Dark lane sticks out, nebula is bright around bright star in various hues of whitish gray to dark gray, fading into the color of the surrounding nebula. Outstanding. | Rich view with a rich background that allows the nebula to stick out in varying shades. Bright star lights up nebula around it but not as far as the Delos nor with quite the same level of detail. Not bad, and really close to the Delos, closer to the Pentax XW |
| | | | | |
| | Better view without glasses. | | | Depends: Glasses no; No glasses, good. |
| | Yes as you adjust your eye to the correct position a couple occur. | | | As with Morpheus as you adjust your eye to the correct position, a couple occur. |
| | As bright star leaves the FOV on the edge slight. | | | |
| | Viewable with direct and averted. Morpehus does a REALLY good job overall pulling out faint stars, often better than the XW or the Delos | Direct and averted vision bring out the faintest stars. | Direct and averted vision bring out the faintest stars | Direct and averted vision bring out the faintest stars. |
| | Without a Paracorr or Coma Corrector, the view is good, just not great. Coma corrector cleans up FC and presents a excellent image overall. Morpheus was very, very much improved. | Without a Paracorr, the center region of the view is outstanding, the edges, well we all know how they are. The Parcorr on M8 cleans it up and gives an excellent view of this object. On M8 I actually give the XW the top rating or tied. | With or without you (the Paracorr II) the 14mm Delos provides sharpness, great contrast, the ability to see faintest stars both direct and averted for the faintest. Just a tremendous view and if no Paracorr is used, this is the clear winner. With a Paracorr in play, Delos and XW are close, up to preference. | The Explore Scientific 14mm 100 provides a very good to great view of M8. The details in the nebula are easily seen and stars are seen with both direct and indirect. I felt the Delos shows more of the faintest stars on their own. No slouch with this eyepiece, just comes to eye relief for me, and probably others. |
| | | | | |
| --- | --- | --- | --- | --- |
| | | | | Explore Scientific 14mm 100 degrees |
| | Some on outer edge due to coma. | Some on outer edge due to coma. | | Perhaps a tinge of the edge shows up from time to time. |
| | | | | |
| | The 14mm Has FC, no doubt. Same issue with M13. Core is sharp in the center, outer stars are out of focus. Focus outer stars, inner core region then comes out of focus. | Yes, we all know this eyepiece has FC. | | |
| | Growing on me, not bad, still not showing all the detail and darkness I'd like. | Excellent love the presentation of the contrast here enhancing the visual experience. | Excellent, similar to though different to XW the contrast here is wonderful to observe. t | Wowser! Wonderful contrast as I believe having a larger FOV plays a role in the eye's view of the object and its contrast. But I am probably wrong on that. |
| | Able to see stars of various hues easily. | Presents hues of stars nicely | | |
| | Yep, still going to be an issue for me and this eyepiece. | Outstand eye relief, no problems with glasses | Outstanding eye relief no problem with glasses | Non glass wearer, your okay once you learn your placement. For me, no go. |
| | As I adjust my eye, yep, I get several blackouts. | | | I get a few as I adjust to the EP. Once adjusted, no problem. |
| | With bright stars and moon you will detect it on the fringe of the FOV. | | | |
| | See with direct, more with averted. Not a lot at the core. | Direct see plenty, averted see even more. Core see both plenty of them. | Direct is great. Averted see more, and at the core see a lot of fainter stars and averted just pops others into the FOV. | Direct is great, averted see a few more. I think I see more with averted vision at the core than with direct vision. |
| | Rich field with M13 of stars, but not as many stars visible at the core, not as many as with the other 3. Chairs and propellor seen. Contrast is solid, and I think that is one reason the stars are the core of M13 and M22 don't pop like the XW or Delos, the contrast is just a hair off. Still good, very good, just not up to the Delos or the Pentax XW standard. A Paracorr will clean up the FC but contrast, no. A Paracorr makes this eyepiece just a step behind the other two. | Rich star field that brings out many stars in the core region and just outside the core. Chains are viable as is the propellor. Striking over all presentation and contrast I really like. That FC is an issue and a Parcorr II cleans it up and makes the view pleasing for me. | I LOVE this EP. Sharp stars, propellor easily seen, chairs stretching out. Core and just outside the core reveals rich starfield and faint stars are easy to see. Wonderful view, and Paracorr II adds to it. | ES 14mm 100 shows sharp stars, the propellor is easy to see as are the various chains running out. Core is rich and again, I see plenty with direct, but averted helps more. I really liked this EP on M13. |
End of Observational Data
Beginning on Initial Review 1
Now before I summarize my experience, I want to show you some images of these three EP's.
So I am just showing you the opening of the Morpheus 14mm. The box it comes is is sturdy, protective and secures the eyepiece. Baader did a nice job on that. There are two layers, one holding the eyepiece in plastic, and a layer below that. The bottom layer holds the wing cup (which I did not use), a holder/case for on the belt . . . ? The last picture shows you three of the four eyepieces I used as the 14mm Explore Scientific 100 degrees hadn't been dropped off yet.
blackouts for me. If I let my glasses hang on my chest, and then observe with the Morpheus 14mm, then the eye relief really seemed to be fine for me. I'm lazy and thought I don't need my glasses forSo what is my take on this shootout? The focus is on the Morpheus 14mm so I will share my thoughts on that. Again, these are my thoughts, my experience at the eyepiece and your mileage will and probably should be different as you and I are not the same. I felt the build of the Morpheus was very well constructed and that it had promise when I unpacked it. I used the case it came in and yes, for me, the letters did glow in the dark during my entire observing evening.
The Baader Morpheus is an very solid to very good eyepiece on its own, at least the 14mm is. It has what I saw as definite field curvature and some chromatic aberration in my 17.5 f/4.4 dob. On axis the views are wonderful. Off axis you will see field curvature and though better than say my old 13mm Stratus from days long gone or it's cousins the Hyperions, it is there. The chromatic aberration was only on the edge of the field of view with bright stars but it was there as a hinge of purple. Sorry, no lunar observing this night. The Edge of Field Brightening I saw was similar to the Some EOFB image I made at the beginning of the article. It's there, as well as coma which is present and which the Paracorr II really cleaned up nicely on this eyepiece. The field stop I did not mention but to me it appears blurred with faintness on the edge when look at it during the day.
My experience in observing with the Morpheus was on the objects I mentioned above. I'll share that on M22 and M13, I did not have the globulars as well resolved in the Morpheus as the Pentax XW 14mm did and definitely the Delos 14mm. Contrast on both the 14mm Pentax XW and Delos 14mm were better overall in my opinion than the Morpheus 14mm. However, in a weird twist, and I saw this best on M51, the Morpheus showed the faintest stars more directly than the Pentax XW or Delos 14mm's. I haven't put my fingers around that yet.
Eye relief and blackouts on the Morpheus were common. I don't believe the eye relief is 18.5mm, as observing with my glasses on resulted in adjusting to the eyepiece and that caused observing, I do for looking at the night sky so I leave them on. Thus why I use my Pentax XW's and my Delos eyepieces and enjoy them (for many reasons).
The positives for me are these. The color as I saw it in the Morpheus, such as on Saturn and Alberio was the equal on axis to the Pentax XW and the Delos. Transmission was very good as was sharpness on axis. I like the eyepiece, its weight and its ability to slip right into my coat pocket is wonderful.
The Morpheus 14mm cost me $239.00 from OPT with $13.04 for shipping, a total of $252.04. Currently a 14mm Delos is on sale for $290 (and I just ordered one tonight with no shipping) and for that price, I would gladly pay the additional $37.96 for the 14mm TeleVue Delos. The 14mm Delos was hands down the winner of this shoot out for me. Now when the Delos go back up to $340 and the 14mm Pentax XW is selling for $359 or so, then the Morpheus will increase in sales for hobbyists who do not want to pay out over $300 for an eyepiece. Give the Morpheus 14mm a coma corrector and you have a very good to excellent eyepiece. Don't use it with a coma corrector and you'll have the issues I have outlined or so I believe. I personally would like to see Baader price them for around $190.00 but I don't think that will happen with margins being what they are.
I was so impressed with the 14mm Delos, (I own the 17.3, 12, 10, and 8) that though not really needing it, I ordered it. I love my Pentax XW's, and with my TeleVue Paracorr Type II, I really like my 14mm Pentax XW. However the shootout has made me determined that I am going to do a full shootout with the Delos and the Pentax XW's to see which in my opinion are the best. I think right now my mindset is beginning to change and learn to the Delos line. Won't sell the Pentax XW's but which I use more, another shoot out will confirm.
I rate overall the three eyepieces, the 14mm Morpheus, Pentax XW and Delos in this order.
TeleVue Delos 14mm winner

Pentax XW 14mm second place (second place or tied with Paracorr II in the focuser).
Perhaps my greatest final judgement is I will be placing the 14mm Morpheus up for sale soon to try and recoup my expenditure. Solid to very good eyepiece, just not quite up to the level of a Pentax XW or a TeleVue Delos. A for effort and improvement for Baader. B for the 14mm Morpheus overall.
Edit:
An updated review from Ernest in Russia on the Morpheus 14mm that agrees with much I posted about in my review:
LINK
. The 14mm review is about near the bottom. It is in Russian so you will need a translator.